Ceco Concrete Construction / Heico Construction Group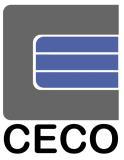 Company Overview
Ceco Concrete Construction is a strategic, collaborative design-assist structual concrete contractor with an innovative, holistic approach and more than 100 years of experience.
Ceco Concrete Construction, LLC is one of several companies comprising the Heico Construction Group – a group of companies owned by the parent holding company Heico. which also owns organizations in its three other platforms: Ancra Group, Heico Metal Processing Group, and Pettibone L.L.C.
Heico is privately held and maintains majority ownership in each of its operations. In aggregate, Heico's businesses generate more than $2 billion in revenues. As a result of its diversity of operations and conservative capital structure, Heico has continuously maintained an investment grade rating with Standard and Poor's since 1997.
This company has 1 jobs posted