Cooper Electrical Construction Company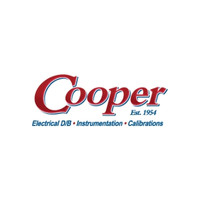 Company Overview
Founded in 1954, Cooper has provided best-in-class electrical D/B, instrumentation and calibrations services for commercial and industrial plants throughout the Southeast. We are fully licensed, insured and bonded, with a remarkable record of safety and efficiency. Cooper's reputation has been built year after year by providing quality workmanship, knowledgeable electricians and relentless customer service.
A Leading Edge Provider of
Design/Build

Instrumentation Construction Services and Maintenance

Integrated Electrical Services and Maintenance

Value Engineering
The Cooper Mission: Our purpose is to glorify God through our commitment to integrity, excellence, service to others, and a high regard for every person with whom we have business.
God's Glory Through:
Integrity

Excellence

Service to others

High regard for every person with whom we have business
This company has 1 jobs posted