LafargeHolcim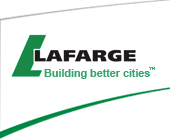 Company Overview
About LafargeHolcim
As the world leader in the building materials industry, LafargeHolcim Ltd and its subsidiaries have the assets necessary to meet the building and design challenges of today's increasing urbanization. Globally, LafargeHolcim has 115,000 employees, a well-balanced local presence in 90 countries and combined net sales of CHF 33 billion (EUR 27 billion) in 2014. With the most innovative cement, concrete, and aggregates solutions, strong R&D and a commitment to health, safety, and sustainability, LafargeHolcim has the building solutions to meet customers' needs, from the individual homebuilder to the largest and most complex project. We are committed to drive sustainable solutions for better building and infrastructure while contributing to a higher quality of life. We are positioned to deliver on this commitment.
In the United States, LafargeHolcim companies include close to 350 sites in 43 states and employ 6,000 people. Our customers rely on us to help them design and build better communities with innovative solutions that deliver structural integrity and eco-efficiency. We are committed to contributing to Building Better Cities and are an active participant in local environmental, educational and sustainable construction initiatives, including relationships with the Wildlife Habitat Council and Habitat for Humanity.
Lafarge North America Inc., Holcim (US) Inc., and their subsidiaries are LafargeHolcim companies, and together constitute the largest diversified supplier of construction materials in the United States. These companies are sometimes referred to as "LafargeHolcim US" for editorial convenience.
This company has 0 jobs posted