Phillips & Jordan, Inc.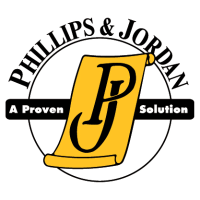 Company Overview
Phillips & Jordan, Inc. is a 63 year old, privately held North Carolina corporation that specializes in heavy civil construction. Our Core Values and Priorities – Integrity, Safety, Quality, and Production – guide our daily business practices. Phillips & Jordan is committed to a "Zero Incident Philosophy" that entails no harm to person, property, the environment, or our reputation. We focus on 6 key markets: Industrial & Commercial, Water Resources, Oil and Gas, Power Generation and Delivery, Disaster Recovery, and Federal Services.

Phillips & Jordan is a national contractor that is licensed in all 50 states and has performed heavy civil construction work in over 40 states during the past decade on projects related to industrial, commercial, and residential construction; transportation (highway, rail, air); dams, levees, and reservoirs; power generation and delivery; oil and gas; landfills; and disaster debris management. Headquartered in Knoxville, Tennessee, Phillips & Jordan maintains regional or project offices in California, Florida, Louisiana, North Carolina, North Dakota, Pennsylvania, Texas, and Wyoming.

At Phillips & Jordan our greatest resource is our employees, from our operational managers and supervisors with years of experience who keep our crews safe and productive, our crafts who perform the work, to our corporate service teams that manage our fleet, financial and administration, information, and technology systems. We are proud to have many second and third generation employees that have chosen to build their careers with Phillips & Jordan. Phillips & Jordan currently has in excess of 1,000 employees and sufficient bench strength to provide multiple layers of redundancy to a project workforce.
This company has 0 jobs posted