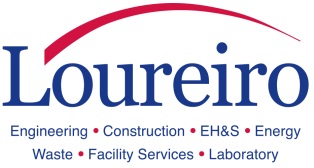 Company Name:
Approximate Salary:
0.00
Location:
Plainville, Connecticut
Country:
United States
Job Categories:
EH&S Engineer/Specialist: Single site
EH&S Engineer/Specialist: Multi-site
EH&S Consultant
Environmental Engineer/Specialist: Single site
Environmental Engineer/Specialist: Multi-site
Environmental Consultant
Industry Segments:
Consulting, Engineering, Environmental Services
Experience level:
3-5 years
Education level:
Bachelor's Degree
Asbestos Project Monitor / Environmental Health & Safety (EHS) Specialist
Loureiro Engineering Associates (Loureiro) has an immediate need for an Asbestos Project Monitor/Environmental Health and Safety (EH&S) Specialist to add to our team in our Plainville, CT office.
Our goal is to employ the right individuals to be a part of our team, learning and working with experienced professionals who will help provide the formal training and mentoring needed to grow professionally and strive toward the opportunities that Loureiro can offer. You will work on a number of diverse projects and will be able to see how the Company's core values: Customer Focus, Composure, Confidence, initiative, Team Work, Dedication to Others, and Optimism and Energy are instilled in every project and in every employee.
Responsibilities:
Perform hazardous building material inspections for asbestos, lead-paint and PCB building surveys;

Perform indoor air quality inspections, water intrusion investigation and mold assessments;

Project oversight and coordination with contractors;

Operate and maintain instruments including sampling pumps, calibrators and microscopes.

Collect samples as required by various regulatory agencies, complete data sheets, chain of custody forms, and prepare samples for shipment to laboratory;

Maintain daily logs of activities related to project work;

Conduct workplace surveys to ensure compliance with OSHA and environmental regulations;

Calibrate, operate, maintain and clean field equipment for air sampling and personnel exposure monitoring, obtain media, collect and submit samples for laboratory analysis, gather relevant project data, conduct field observations and document events;

Review technical data and draft technical reports that include quantitative and qualitative data and propose recommendations;Interact with contractors, owners, officials and other parties; following precise directions and regulations.




Requirements:
Bachelor's degree in Environmental Sciences or closely related field;

2-5 years of experience various aspects of abatement projects preferred;

Current CT Asbestos license in project monitoring and inspector license;

Current CT lead-paint inspector/risk assessor license;

Must be able to perform field work with exposure to a variety of climatic conditions and potential exposure to hazardous materials and wastes;

Demonstrated maturity in judgment, and initiative;

Strong oral and written communication skills; ability to prepare reports;

Previous OSHA training: OSHA 10, OSHA 40-hour HAZWOPER, and hazardous waste handling experience;

Proficient in Microsoft Word and Excel;

Ability to lift 50 lbs. and to wear a respirator;

Ability to carry and climb ladders and being able to use hand and power tools;

Off-hours work may be required;

Valid driver's license and reliable transportation.




The right Candidate has a strong work ethic, be willing to travel, take on responsibility, work well independently as well as part of a team, motivated to perform high quality work, and the ability to work overtime and on-call duties.
Loureiro Engineering Associates, Inc. (Loureiro) is an employee owned (ESOP), full-service multi-disciplinary consulting firm with operations in Connecticut, Massachusetts, Rhode Island, New Hampshire, North Carolina, California, and the District of Columbia. Loureiro' s areas of expertise include the integration of the highest quality engineering, construction, environmental health & safety, energy, laboratory analytical, and waste management services.
EEO/AAP Statement: Loureiro Engineering Associates Inc. is An Equal Opportunity/Affirmative Action Employer. All qualified applicants will receive consideration for employment without regard to race, color, religion, sex, national origin, disability or protected veteran status