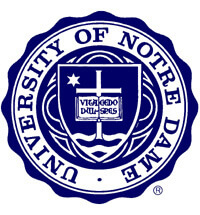 Company Name:
Approximate Salary:
0.00
Location:
Notre Dame, Indiana
Country:
United States
Job Categories:
Health Physics/Radiation Safety
Safety Manager/Coordinator: Single site
Safety Manager/Coordinator: Multi-site
Safety Corporate Director/Manager
Industry Segments:
Academic/Educational sector
Experience level:
3-5 years
Education level:
Bachelor's Degree
Associate Director Lab Safety & RSO (Radiation)
Associate Director Lab Safety & RSO
Applications will be accepted until 7/11/2019.
The Associate Director of Lab Safety & RSO is responsible for providing strategic leadership in the development and implementation of Environmental Health and Safety (EHS ) management systems to ensure compliance with local, state and federal statutes, regulations and University programs. This position is responsible for the research and laboratory safety programs for all on-campus and off-campus locations. Research safety includes but is not limited to chemical, biological, radiological, and physical hazards. Responsible for the management of a broad-based ionizing and non-ionizing radiation safety program that complies with current federal, state and local regulations.
This position is the designated RSO for the University. The research safety program requires collaboration with faculty and staff as well as facilitation of a faculty led laboratory safety steering committee. This position oversees 3 full-time safety professionals. The successful applicant should have skills and experience in strategic planning, staff development, and the management and implementation of safety management systems. Diverse regulatory expertise is required to ensure compliance and best practice with regulations. Representing the University with local, federal, and state environmental regulatory agencies is required.
Minimum Qualifications:
Bachelor's degree (4 years) in Health Physics, Safety, Biology, or related field. 3-4 years of experience as RSO .
Excellent written and oral communication skills. Knowledge of computer applications. Ability to communicate effectively with a broad range of stakeholders. Understanding of research activities and systems. Experience interfacing with third-party regulators, e.g., NRC .
Preferred Qualifications:
Professional designation as a Certified Health Physicist (CHP ), Preferred Qualifications: Completion of 40-hour Radiation Safety Officer training course, DOT certification for transportation of radioactive material.
ABOUT NOTRE DAME:
The University of Notre Dame, founded in 1842 by Rev. Edward F. Sorin, C.S.C., of the Congregation of Holy Cross, is an independent, national Catholic university located in Notre Dame, Ind. For the fifth consecutive year, the University of Notre Dame has received Honor Roll distinctions as one of the top 10 higher education workplaces in the country in the Chronicle of Higher Education's annual "Great Colleges to Work For" survey...and we are proud of it!
This appointment is contingent upon the successful completion of a background check. Applicants will be asked to identify all felony convictions and/or pending felony charges. Felony convictions do not automatically bar an individual from employment. Each case will be examined separately to determine the appropriateness of employment in the particular position. Failure to be forthcoming or dishonesty with respect to felony disclosures can result in the disqualification of a candidate. The full procedure can be viewed at https://facultyhandbook.nd.edu/?id=link-73597.
Equal Opportunity Employment Statement
The University of Notre Dame seeks to attract, develop, and retain the highest quality faculty, staff and administration. The University is an Equal Opportunity Employer, and is committed to building a culturally diverse workplace. We strongly encourage applications from female and minority candidates and those candidates attracted to a university with a Catholic identity. Moreover, Notre Dame prohibits discrimination against veterans or disabled qualified individuals, and requires affirmative action by covered contractors to employ and advance veterans and qualified individuals with disabilities in compliance with 41 CFR 60-741.5(a) and 41 CFR 60-300.5(a).
Copyright ©2017 Jobelephant.com Inc. All rights reserved.
More Jobs Like This
We couldn't find matching jobs.