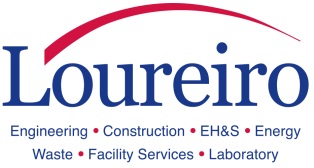 Company Name:
Approximate Salary:
0.00
Location:
Plainville, Connecticut
Country:
United States
Job Categories:
Environmental - Air pollution
Environmental Engineer/Specialist: Single site
Environmental Engineer/Specialist: Multi-site
Environmental Consultant
Industry Segments:
Consulting, Engineering, Environmental Services
Experience level:
3-5 years
Education level:
Bachelor's Degree
Environmental Air Compliance Specialist
Loureiro has an immediate opening for an Environmental Air Compliance Specialist in our Environmental Health & Safety (EHS) Division in our Plainville, CT office.
Our goal is to employ the right individuals to be a part of our team. At Loureiro, new employees learn and work with some of the best and most experienced professionals in the industry. Working on a number of diverse, related projects will allow you to see how our company's core values are instilled in every project and employee. Not to mention that you are also an employee-owner of the firm from your start date.
Responsibilities:
Develop emissions inventories and prepare air emissions calculations for all types of emissions sources;

Prepare applications for air permits to construct and operate emission sources, including general, minor, synthetic minor, and Title V permits;

Conduct air quality monitoring (e.g., NESHAP) for inspections to determine toxic/hazardous air pollutants;

Perform annual air compliance reporting tasks, including annual emission statements, and prepare related documents or electronic submissions;

Provide technical support on various projects under the supervision of project managers to develop strategies to address air compliance issues (emission limit modifications, control equipment, stack modifications)

Evaluate impacts of new air regulations on Loureiro's clients;

Review emission test reports and protocols.




Qualifications:
Bachelor's Degree in Civil/Environmental Engineering, Chemical Engineering, Environmental Science, or a related degree;

3+ years of air quality and air permitting-related experience with willingness to expand experience to include other environmental compliance and permitting activities;

Strong working knowledge of federal, state, and local air regulations;

Ability to perform air emissions calculations using emission factors or mass balance procedures, and experience with air quality modeling including standard USEPA-approved models and protocols;

Strong attention to detail with excellent analytical and judgment capabilities;

Perform technical execution of projects under the supervision of project managers ;

Strong written and verbal communication skills, problem solving and organizational skills;

Working knowledge of computers and Microsoft Office suite;

Excellent skills in the development and use of Excel spreadsheets to perform calculations and organize data;

Must thrive in a fast-paced, multitasking environment, love challenges and details, be resourceful, and have great organizational and time management skills;

Air dispersion modeling knowledge and experience is a plus..




Loureiro Engineering Associates, Inc. (Loureiro) is an employee owned (ESOP), full-service multi-disciplinary consulting firm with operations in Connecticut, Massachusetts, Rhode Island, New Hampshire, North Carolina, California, and the District of Columbia. Loureiro' s areas of expertise include the integration of the highest quality engineering, construction, environmental health & safety, energy, laboratory analytical, and waste management services.
EEO/AAP Statement Loureiro Engineering Associates Inc. is An Equal opportunity/Affirmative Action Employer. All qualified applicants will receive consideration for employment without regard to race, color, religion, sex, national origin, disability or protected veteran status.