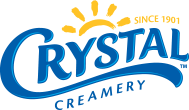 Company Name:
Approximate Salary:
0.00
Location:
Modesto, California
Country:
United States
Job Categories:
EH&S Manager/Coordinator: Multi-site
EH&S Corporate Director/Manager
Industry Segments:
Agriculture & Fishing, Consumer Goods, Distribution / Warehousing
Experience level:
16+ years
Education level:
Bachelor's Degree
Environmental, Health & Safety (EHS) Manager
Crystal Creamery is now hiring an Environmental, Health and Safety Manager!
Crystal brand dairy products have been a part of California for over 100 years. Throughout our history we have remained committed to providing the freshest, local dairy products.
Foster Farms Dairy was founded in 1941 by Max and Verda Foster and is still family-owned and operated. Since becoming part of the Foster Farms Dairy family, the Crystal brand has continued its century old tradition of providing the highest quality, freshest, local dairy products.
That's why when it comes to feeding your family, the choice is clear… Crystal. At Crystal Creamery, our team is committed to producing a quality product, each and every day.  We offer our employees an opportunity to work in an environment which allows them to grow and to contribute to the success of our business!  
Come, be part of our amazing team! We offer:
Excellent healthcare coverage

Competitive compensation package

Retirement plan




Position Summary:
The Environmental, Safety and Health Manager is based in Modesto and responsible for leading Company-wide manufacturing safety initiatives, as well as our environmental strategic plan.  This position is responsible for executing the Company's safety and environmental programs for the area of responsibility.  This position is responsible for developing and executing a comprehensive environmental, safety and health program ensuring compliance with all local, state and federal regulations. 
The Manager will be a subject matter expert in employee safety as well as have OSHA, and Cal/OSHA compliance experience and be highly skilled at implementing processes that will lead to sustained performance improvements.  The successful candidate will spend 70 – 80 percent of their time coaching, correcting and directing through on-floor presence.
This position requires travel to sites within the state of California. 
Essential Duties and Responsibilities:
Serve as designated environmental, safety and health leader, and implement consistent program.  Responsible for teaching, mentoring and guiding the operations leadership teams to execute Company policy, identify best practices and implement those best practices.  Provide leadership to drive continuous improvement in Environmental, Health and Safety performance, while assuring comprehensive operational compliance.
Ensure compliance with:  
OSHA and Cal/OSHA standards and regulations; state and local food safety guidelines; Company safety standards including the Process Safety Management Program, Waste Water Discharge Program, Fail Prevention Control Countermeasure and Storm Water Pollution Prevention Plan.
Implement and oversee environmental, health and safety improvement initiatives, through partnering with managers and supervisors.  Develop metrics and reports to measure environmental, health and safety performance and opportunities to develop safety policies.  Measure sites performance against published requirements in policies. 
Education and Experience Requirements:
Bachelor's Degree in Environmental Health and Safety or related field.

Minimum of 10 years' experience in environmental, health and safety as a Manager, in a multi-site environment required.

Minimum of 5 years' experience managing direct reports.

Minimum of 15 years' experience in environmental, safety and health

Food and beverage manufacturing background required. 

Experience in lean principles and continuous improvement efforts preferred.

Certification or designations applicable to Environmental and OSHA /CalOsha requirements preferred.

Crystal Creamery is an Equal Opportunity Employer.  Qualified women, minorities and US military veterans are encouraged to apply.
Apply online by clicking the "Apply for this job" link on this page!
More Jobs Like This
We couldn't find matching jobs.