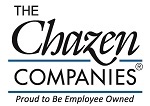 Company Name:
Approximate Salary:
0.00
Location:
Poughkeepsie, New York
Country:
United States
Job Categories:
Construction Safety
Safety Engineer/Specialist: Multi-site
Safety Consultant
Industry Segments:
Construction /Architecture, Engineering
Experience level:
6-10 years
Education level:
Bachelor's Degree
Health & Construction Safety Professional
Chazen offers employees and prospective employees a broad range of opportunities to sharpen their talents, gain exposure to new opportunities, and continually embark upon exciting challenges for their ongoing career development. We provide the tools, training and opportunities to chart your own career path.
Chazen's success is based on the success of each and every one of our employees. Since we are a multidisciplinary, employee-owned firm, our focus is always directed towards thinking ahead in this ever-changing world of technology and innovation. We are continually looking for talent, with professionals who are qualified and motivated individuals to help us create the future.
The Chazen Companies has an immediate opportunity for an experienced Construction Safety Professional with business development experience to join Chazen's consulting team.  
Job Responsibilities: 
Business Development

Health and Safety Training - 10 and 30 Hour OSHA Training

HAZWOPER Training

Scaffold Training

Fall Protection Training

Fall Protection Systems Evaluation

Confined Space Training

Electrical Safety

Forklift Training

Traffic Control Training

Site Safety Inspections/ Audits

Safety Program Development

Industrial Hygiene Sampling

Respirator Training

OSHA Audit Preparations and resolution consulting
 
Qualifications: 
BS in Civil /Environmental Engineering 

7-10 years experience in a professional consulting firm  is preferred

Excellent verbal, written and interpersonal communication skills

Confident, comfortable and effective communicator as a trainer

Demonstrated leadership and staff management skills

Self-Motivated

Ability to multi-task and prioritize

Enjoys working in a collaborative team environment.
 
It is expected the successful candidate will have some or all of the following credentials: 
OSHA Outreach Instructor, CSP, CHST preferred.

First Aid/ CPR Instructor and relevant training certifications.

Environmental compliance experience in SPCC, CBS/PDS Compliance Hazardous Materials Reporting, SPDES, Industrial Stormwater, Waste Management, or other regulatory compliance areas including Environmental Auditing, a plus.


Founded over 70 years ago, The Chazen Companies is an employee-owned, multidisciplinary firm providing civil engineering. land surveying, planning, environmental and safety consulting, code services, landscape architecture, construction services, transportation, planning and traffic engineering in the private and public sectors. 
Chazen employees proudly collaborate with municipalities, state agencies, developers, landowners, utility companies, and industrial, healthcare, education, and non-profit clients from project conception to completion, taking a customized approach to every project. With offices in Glens Falls, Troy, Poughkeepsie and White Plains, NY; Nashville and Chattanooga, TN; and Portland, Oregon, Chazen delivers world class performance focused on creating effective, long-term partnerships with its clients.  
We are regularly recognized by our employees as a Best Places to Work and consistently win workplace excellence awards. We offer competitive compensation and a comprehensive benefits program including an ESOP (Employee Stock Ownership Program), training, professional development, membership in professional associations and much more. All of our offices provide employees with a relaxed and professional working environment.
To apply via email, please click the "Apply for this job" link on this page!
More Jobs Like This
We couldn't find matching jobs.