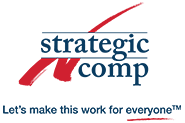 Company Name:
Approximate Salary:
$90 - 95k
Location:
Sacramento, California
Country:
United States
Job Categories:
Loss Control Professional: Multi-site
Loss Control Consultant
Safety Engineer/Specialist: Multi-site
Safety Consultant
Industry Segments:
Environmental Services, General Manufacturing, Insurance/Real Estate/Legal Services
Experience level:
6-10 years
Education level:
Bachelor's Degree
Loss Prevention Consultant
When is the last time you felt like you made a difference to your employer and in the job you do? Been awhile? Never? Our employees at Strategic Comp DO make a difference and feel appreciated for it. In fact we received 98% rating for overall job satisfaction from the participants in our last employee survey, making it no surprise that our employee turnover is less than 3%. This clearly indicates the passion and energy our staff has for our company and for the job they do . . . and they never want to work anywhere else!
A big reason for these successes is due to our careful matching of the right job with the right person. Currently we have an opening for a Loss Prevention Consultant in your territory. Wouldn't it be nice to be seen as more than an inspector? Wouldn't it be great to work with a company that makes effective loss prevention a requirement for customers prior to partnering with them? Do you enjoy first hand client interaction? Does this sound like you? If so, this might be the right job for you.
Here's who we are. Strategic Comp is part of Great American Insurance Group, which was established in 1872. Based in Cincinnati, Ohio, the operations of Great American Insurance Group are engaged primarily in property and casualty insurance, focusing on specialty commercial products for businesses, and in the sale of annuities. The members of the Great American Insurance Group are subsidiaries of American Financial Group, Inc. AFG's common stock is listed and traded on the New York Stock Exchange ("NYSE") and NASDAQ under the symbol "AFG".
Here's what we do. We insure workers' compensation coverage for large companies, using our deductible program. Our service in claims and loss control is second to none. We've found that a large majority of our customers feel the way our employees do. Our renewal retention is 90+%, meaning our customers don't want to leave us either!
Here's what you would be doing if hired for the loss prevention position. Your role would be to provide technically competent Loss Prevention Services in accordance with company policies and procedures and to provide support services to help acquire and retain profitable business in accordance with our company objectives. The person hired for this position will work from their home and will be required to travel up to 60% of the time including some overnight travel. A company car is provided. In addition to a competitive total rewards program, we offer an annual discretionary bonus for this position.
Responsibilities
Surveys and services commercial risks of any size and/or complexity for workers' compensation coverage.

Originates and manages all service account scheduling and activities for the assigned territory.

Meets or exceeds all service standards.

Accomplishes risk improvement by providing management consultation services, developing recommendations for hazard control, and providing direct support services to the insureds.

Provides value-added customer service to insureds, agents, and company personnel.

Maintains good communications at all levels.

Conducts loss prevention services and training for customers to help reduce losses. Participates in team activities designed to help retain accounts.

Maintains specialized state-of-the art professional capabilities in loss prevention support for workers' compensation products.

Performs other duties as assigned.
Qualifications
To apply, you must have a Bachelor's degree and at least 5 years of loss prevention experience working for a major writer of workers' compensation insurance.

Strong workers' compensation knowledge is required along with the ability to conduct training programs and classes for our clients.

Basic knowledge of underwriting and product management skills.

Broad knowledge of commercial lines of insurance coverage, engineering principles and loss prevention concepts, and safety standards and codes.

Strong consideration will be given to candidates with industry designations, including Associate in Risk Management, Certified Engineering Technician, Certified Safety Professional, or a degree in Engineering. A Masters degree in Safety and Health may be substituted for one of the professional designations.

Extensive use of computers and software programs is required of this position.

You must be a great communicator verbally and in writing as well as have excellent presentations skills and be able to work with a variety of internal and external contacts.
Application Instructions:
Please select "Apply for this job online" to upload the following items in one document:
Three work references (including current contact information)

A cover letter telling us why you feel that you are a good match for this position