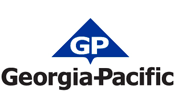 Company Name:
Approximate Salary:
0.00
Location:
Atlanta, Georgia
Country:
United States
Job Categories:
Process Safety Management
Industry Segments:
Manufacturing - Miscellaneous
Experience level:
3-5 years
Education level:
Bachelor's Degree
Process Safety Manager
Process Safety Manager – Building Products Business Unit
 
Georgia-Pacific (GP) is among the world's leading manufacturers of bath tissue, paper towels, napkins, tableware, paper-based packaging, office papers, cellulose, specialty fibers, nonwoven fabrics, building products and related chemicals. Our building products business makes DensGlass® gypsum board often seen in commercial construction, DryPly® plywood and RESI-MIX® wood adhesives, among others. Our containerboard and packaging business offers high-end graphic packaging to bulk bins as well as Golden Isles fluff pulp. You may also recognize consumer brands like Angel Soft®, Brawny®, and Dixie® on retail shelves and enMotion® towels, Compact® bath tissue and SmartStock® cutlery dispensers when you are away from home. Our GP Harmon business is one of the world's largest recyclers of paper, metal and plastics.
As a Koch Company, we create long-term value using resources efficiently to provide innovative products and solutions that meet the needs of customers and society, while operating in a manner that is environmentally and socially responsible, and economically sound. Headquartered in Atlanta, GA., we employ approximately 35,000 people. For more information, visit www.gp.com.

Georgia-Pacific is looking to hire a Process Safety Manager for our Building Products Business Unit in Atlanta, GA. This role will provide strategic Process Safety Management (PS) leadership and direction for Georgia-Pacific's Building Products facilities through the application of the Market Based Management® (MBM®) Framework and Guiding Principles.  This role will be based in Atlanta, GA and will oversee the implementation and application Process Safety elements (GP's internal version of PSM) as applicable to Building Products' facilities, especially the Chemical facilities, as well as ensuring the covered PS/PSM/RMP processes are effectively addressed.  This role will create value for the organization by ensuring that critical process safety hazards and risks are identified and mitigated for each facility, facility Process Safety strategies are aligned with the organizations S&H vision, and effective strategies and sustainable management systems are developed
and implemented.  This role collaboratively facilitates process safety excellence and performance improvement through culture change, coaching and development of division and facility leadership.

A Day In The Life Typically Includes:
 
     * Facilitating the development and implementation of a sustainable process safety program that goes beyond the regulatory standard PSM covered processes, but focuses on high risk manufacturing
     * Assisting the divisions and sites with the identification, selection and development of process safety talent and capabilities to support process safety, beyond the required covered processes
     * Collaborating with operations to identify and draft operating and business unit's strategies to proactively reduce risk by facilitating effective process hazard analyses and monitoring performance via key process safety performance indicators
     * Setting the vision for the business unit, and ensure alignment with the organization's five-year plans
     * Building business unit level guidance for system-wide process safety hazards
     * Monitoring progress on key efforts, initiatives, and projects; assist division resources as needed, provide regular updates to leadership
     * Providing technical support for critical hazard / risk reduction, focusing on the more advanced hierarchy of controls strategies (elimination, substitution, engineering controls)
     * Evaluating performance of facility process safety in areas of strategic planning, risk reduction, compliance decision-making, audit performance, program and management system development/improvement, capital project management, and event management
     * Collaboration and coordination with Global Safety PS resources
     * Assisting the divisions with the identification, selection and development of process safety talent and capabilities to support process safety; and personal development
     * Working with facilities to build site specific role descriptions and needs assessments for the Process Safety leader positions and associated roles
     * Facilitating the development of technical and operating process safety capability
     * Identifying training needs in the organization, and work to fill gaps
     * Maintaining knowledge of current and emerging regulations, standards, technology, and industry and best practices; apply to current operations
     * Collaborating with divisions to identify and draft operating and business unit's strategies to reduce risk by proactively using process safety key performance indicators
     * Increasing value gained from key process safety programs such PSI, PHA's, MOC's and MI
     * Providing oversight and leadership regarding the process safety critical hazards process, including the identification of critical hazards
     * Facilitating field verification and validation of controls for those critical process safety hazards with a focus on more advanced hierarchy of controls (elimination, substitution, and engineering)
     * Ensuring divisions have prioritized /risk-based process safety approach, actionable strategies
     * Ensuring effective metrics are utilized to monitor progress and performance
     * Managing, tracking, and reporting on issues, strategies, initiatives/projects, incidents, assessments/audits, and safety performance of all BP facilities
     * Supporting divisions in the development and use of risk assessment methods and tools for anticipating, identifying, and evaluating PS hazards.
     * Driving and assisting with the mitigation of identified gaps, weaknesses, and improvement opportunities
     * Ensuring divisions develop and implement appropriate and effective corrective and preventive actions in response to assessments, audits, incidents, and other events/activities, and timely closure is properly tracked and documented
     * Coordinating process safety activities with facility, project and process engineering groups.
     * Participating and providing oversight on PHA's for large capital projects
     * Assisting with developing PHA capability thought the business
        
What You Will Need:
Basic Qualifications:
     * Bachelor's degree in chemical engineering, or other safety science or engineering field.
     * Five years process safety experience in a chemical process environment, industrial, or other manufacturing environment.
     * Minimum three years of multi-site experience leading / managing PSM program at manufacturing or chemical facilities.
     * Willing and able to travel 20-30% (primarily domestic)
     * Leadership experience and working knowledge of OSHA 29 CFR 1910.119, process safety management of highly hazardous chemicals, and other safety and engineering related codes and standards (e.g., boilers, fire protection, pressure vessels, combustible dust).
     * Process Hazard Analysis facilitation skills.

What Will Put You Ahead?
Preferred Qualifications:
     * Experience managing and developing multiple direct reports
     * CSP, PE, CIH, or demonstrated progress towards achieving certification
     * Business wide metrics and trending development
     * Capital project planning and execution
 
Salary and benefits commensurate with experience.
We are an equal opportunity employer. Minority/Female/Disabled/Veteran
Except where prohibited by state law, all offers of employment are conditioned upon successfully passing a drug test.

This employer uses E-Verify. Please visit the following website for additional information: www.kochcareers.com/doc/Everify.pdf

Follow us GP-LinkedIn GP-Twitter GP-Facebook GP-YouTube