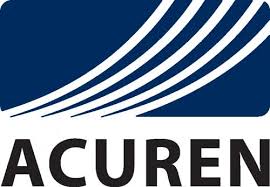 Company Name:
Approximate Salary:
0.00
Location:
Dayton, Ohio
Country:
United States
Job Categories:
Safety Manager/Coordinator: Multi-site
Safety Corporate Director/Manager
Industry Segments:
Aerospace, Oil & Gas - E&P, Oil & Gas - Refining
Experience level:
11-15 years
Education level:
Bachelor's Degree
Safety Director
Company Description:
With 90 locations throughout North America, Acuren Inspection, Inc. is the leader in Nondestructive Testing (NDT). Providing a wide range of services in many industries including: Oil and Gas, Petrochemical, Pipeline, Power Generation, Pulp and Paper, Construction, Fabrication, Automotive, and Aerospace. Inspection is our history and our focus for growth. We are a Rockwood company, the worldwide leader in NDT service and technology with over 3,000 technical professionals in Acuren, Hellier NDT Training, and Sperry Rail Service -- NDT firms run by NDT people!
Acuren is the largest inspection services company of its kind with exciting career positions throughout North America. A career with Acuren lets you train and work with some of the foremost leaders and innovators in NDT, inspection, engineering and industrial services.
We offer work in a fast-paced, growing company with potential for career advancement, personal development and growth, along with challenging learning opportunities. You'll gain valuable experience supporting the mechanical integrity and inspection programs of mission critical industries around the globe.
Benefits: 
Medical, Dental, and supplemental insurance 

401K plans 

Paid Holidays

Paid Time Off


You'll also find a deeply ingrained culture that is committed to providing a safe and healthy working environment, maintaining the highest industry standards, and respecting the dignity of every employee.
Train and work with innovators in inspection, integrated services, and engineering. Be a part of a growing industry dedicated to ensuring safe and efficient industrial operations. Our employees are our most valuable asset.
Position Summary:
The Director of Safety reports to the General Manager and works with all levels of the organization to improve safety awareness and the safety culture in order to reduce job related injuries. The incumbent will work with the Safety Managers to develop plans, procedures and training to accomplish these and other safety goals.
Responsibilities:
Develops a world-class safety program within the segment.

Strategize with the staff to develop a culture that embraces safety, recognizes hazards, and takes action to minimize risk.

Ensure employees conduct hazard assessments on every job and that all staff understands they are not to take risks and must refuse unsafe work.

Provide resources to ensure we use quality and appropriate safety equipment, carry out safety training where required, and to conduct safety audits on a regular basis.

Provide direct management and leadership in the investigation of all safety incidents.

Design and implement safety policies and procedures.

Ensures adherence to corporate safety objectives.

Design and coordinate periodic audits for on-the-job safety performance.

Administers safety policies and occupational health and safety laws

Ensures required safety records and documentation are maintained

Responsible for the execution of incident investigations, Incident Report Summaries, and ensure the incident and "lessons learned" are communicated throughout the region.

Maintains regional statistics and prepares monthly reports.

Develop and promote safety training programs, safety award programs and safety training.

Works as the liaison with client safety personnel, participate in pre-job meetings, post job reviews and obtain feedback on safety performance for use in improving programs.

Provides leadership relative to new methods and approaches toward improving safety within the region and establish safety work practices for new tasks or equipment

Provides leadership of the Region's driver safety initiatives and maintain records pertaining to authorized vehicle drivers, including recent driver abstracts, driver training, driver suspensions and demerit points system.

Requirements:
Minimum of 10 years experience in field service employment specific to regional client industries; e.g., petrochemical, mining, etc.

Prefer B.S. in safety related area

Prefer certified safety professional

Previous experience as an occupational safety leader or field safety auditor.

Thorough knowledge and understanding of OSHA as it relates to a NDT environment.

Strong technical background in NDT methods and procedures.

Excellent technical and non-technical verbal and written communication skills.

Self-starter, enthusiastic, energized team player.

Ability and willingness to travel routinely.

Proficient in Microsoft Excel and Word.




 
Physical Demands:
While performing the duties of this job, the employee is regularly required to sit; use hands to finger, handle or feel, reach with hands and arms, and talk or hear. The employee is frequently required to stand and walk and drive. The employee must regularly lift and/or move up to 10 pounds and frequently lift and/or move up to 25 pounds.
If you are interested in being considered, please forward your resume via email by clicking the "Apply for this job" link on this page.  
Acuren Inspection, Inc. is an equal opportunity employer where employment is based upon personal capabilities and qualifications without discrimination because of race, color, religion, gender, age, national origin, disability, veteran status or any other protected characteristic as established by law.