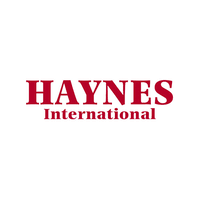 Company Name:
Approximate Salary:
$80-85,000
Location:
Kokomo, Indiana
Country:
United States
Job Categories:
EH&S Manager/Coordinator: Single site
Safety Manager/Coordinator: Single site
Industry Segments:
Metals - Fabricated, Metals - Primary
Experience level:
6-10 years
Education level:
Bachelor's Degree
Safety (EHS) Supervisor
Haynes International is one of the world's largest developer, manufacturers, and distributors of high‐performance nickel‐ and cobalt‐based alloys for use in high‐ temperature and corrosion applications. Our standard product forms include sheet and plate, bar and billet, seamless and welded pipe and tubing, wire and welding consumables, fittings and flanges.
Haynes International has manufacturing facilities in Kokomo, Indiana; Arcadia, Louisiana; and Mountain Home, North Carolina. The Kokomo facility specializes in flat products, the Arcadia facility specializes in tubular products and the Mountain Home facility specializes in high‐performance wire products. Worldwide sales offices and service centers stock all product forms and offer processing capabilities including many types of specialized cutting.  All of these centers are company‐operated.
Safety Supervisor
Department: Environmental, Health & Safety           Location: Kokomo, IN
Business Purpose:
Compliance with Environmental, Health and Safety Regulations. Ensure compliance with all Federal and State, and local EHS regulations with respect to employee health and safety, wastewater, solid waste, air and asbestos.
Role Qualifications: (Required) & (Preferred)
Education: 
BS Physical Sciences - Occupational Safety, Public Health, Engineering, Environmental Science, or equivalent (R).
Experience:
5+ Years EHS support in industrial setting (R),  Strong background and experience in multiple facets of safety program implementation and management (R) EHS compliance (R), Experience in a union environment (P).
Areas of Knowledge:
In-depth knowledge of regulatory compliance with federal, state, and local EH&S requirements including OSHA, and NFPA.  Industrial Hygiene (P), Workers Compensation (R), HAZCOM (R), Lockout/Tagout (R), PPE (R), Ergonomics (R).
Skills: 
Implementation and maintenance of safety programs (R),Communications(R), Computer skills (Word, Excel, PowerPoint) (R), Problem solving (R), Licensed Asbestos Inspector (P), Strategic Planning (P), Six Sgma (P). 
Global Accountabilities for the Role:
Safety & Environmental: Support and maintain the company's overall EH&S programs.
Quality: Support the company's quality system.
Productivity: Take appropriate actions required to achieve or exceed the established goals.
Cost: Take appropriate action to remain within department budgets and seek cost reduction opportunities.
Specific Accountabilities for the Role:
Effectively communicate and ensure compliance with: company policies and procedures; training 

requirements; accident reporting procedures; Job Safety Analyses (JSAs) directives; Lockout/Tagout/Try procedures; Confined space entry procedures; the proper use of Personal Protective Equipment (PPE) Ensure conformance with OHSAS 18001 requirements


Perform & coordinate detailed technical safety activities


Conduct semi-annual audits to ensure regulatory compliance & distribute report


Maintain knowledge of OSHA & IOSHA standards


Coordinate industrial hygiene air sampling with provider & communicate results



Develop, implement & assist management with strategic planning for development & use of specific 

awareness programs


Chair & coordinate activities of the safety and ERT committees to ensure their continued involvement


Maintain knowledge of NFPA and ANSI standards


Perform regular inspections as assigned


Correspond with internal auditors & supervisors to ensure deficiencies are identified and abated


Conduct safety training for management & hourly employees


Administer all safety & health programs through audits & follow-up procedures


Coordinate activities of the safety, ERT and ergonomics committees


Manage the investigation process on all incidents



Maintain and coordinate current industrial hygiene plan with contracted provider & communicate 

results to management


Develop & implement effective EH & S training programs



Will assist with other EHS related duties as needed