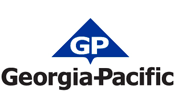 Company Name:
Approximate Salary:
0.00
Location:
Mt. Holly, North Carolina
Country:
United States
Job Categories:
Safety Engineer/Specialist: Single site
Industry Segments:
Paper/Lumber/Timber
Experience level:
3-5 years
Education level:
Bachelor's Degree
Safety Specialist
Georgia-Pacific has an exciting opportunity for a talented Safety Specialist at our Mt. Holly, NC facility!  Located just outside of Charlotte, NC, the Mt. Holly facility employs approximately ­140 employees, has two nonwoven paper machines, and produces airlaid nonwovens materials that are used to enhance the quality of hygiene and personal care products, cleaning supplies, baby wipes, cloth-like napkins, towels and tissues, and disposable table cloths. The Safety Specialist creates value through assisting in development, implementation, and maintenance of the company's Health & Safety programs for GP employees.
This is a salaried role reporting to the site Safety Manager. Specifically, this position assists in mill risk assessments, loss prevention, process safety, implementing and managing safety compliance standards as assigned, and utilizing the safety management system.  The selected individual will align closely with our company values and will serve as a role model and coach for other employees through the application of Georgia-Pacific's MBM® framework and Guiding Principles, including safety & health compliance and achievement of mill and corporate safety objectives.
Mt. Holly is centrally located, just five minutes from Charlotte where you can enjoy all the amenities of Charlotte without the fuss.  It is nestled along the Catawba River and is a vibrant and growing city that has maintained its charm as a small Southern town.  Visit: http://visitmounthollync.com or http://www.visitgaston.org to learn more.
A Day In The Life Typically Includes:
* Leading, coaching, and developing employees utilizing the MBM® Guiding Principles and Framework
* Enhancing the Mill's capability in risk reduction (critical and otherwise) as well as the development and implementation of fundamental safety programs- these programs may include but are not limited to Confined Space Entry, Emergency Response, Electrical Safe Work Practices, Lock-Tag-Verify, Fall Protection, Line Break, Incident Investigation, Mobile Equipment, Personal Protective Equipment, and Safe Work Permits
* Assisting in the development and delivery of required regulatory training
* Providing a visible safety presence in the field with operations, maintenance, and contract work groups
* Assisting employees in aligning to a vision of lower risk tolerance/preference
* Serving as a Compliance Standard Owner and Subject Matter Expert in assigned safety disciplines
* Participating in incident investigations, enhancing capability throughout the organization to conduct effective investigations which identify root-causes and implement sustainable corrective actions to prevent re-occurrence
* Coaching and mentoring personnel to facilitate ownership of safety at all levels of the organization
* Providing direct support with internal safety and process safety audits
* Providing support to the development of Facility and Department Risk Assessments (FRA/DRA) and Hazard Identification Risk Assessments (HIRA) so that risk is identified, prioritized and mitigated
* Providing leadership to mill compliance system owners (CSOs) to ensure maximum value creation
* Rotating with other team members to provide support on weekends and holidays
* Producing accurate, high quality work in a time sensitive manner
What You Will Need:
Basic Qualifications:
* Bachelor's Degree OR five (5) or more years' experience in a safety-related role
* Two (2) or more years' experience in a safety role at an industrial/manufacturing facility or a current/graduate from Georgia-Pacific ELP Program
* Experience using Risk Management concepts and tools (RMS)
* Experience and working knowledge of OSHA 29 CFR 1910, 1926
* Experience with Microsoft Office Software (Excel, Outlook, Word, PowerPoint)
* Experience developing and implementing regulatory compliance programs and training
* Experience demonstrating the application of both process safety management and occupational safety management with particular attention to critical risks
What Will Put You Ahead?
Preferred Qualifications:
* Bachelor's Degree or higher in Safety & Health, Industrial Hygiene, Engineering, or related field
* Associate Safety Professional (ASP), Certified Safety Professional (CSP), Certified Industrial Hygienist (CIH), or equivalent certification
* Five (5) or more years in a safety role at an industrial/manufacturing facility
* Experience in manufacturing, pulp and paper, or chemical facility
* Demonstrated ability to establish sustainable systems for compliance and continuous improvement
* Experience in implementation of GP compliance standards and mitigation of critical risks (game changers)
Salary and benefits commensurate with experience.
We are an equal opportunity employer. Minority/Female/Disabled/Veteran
Except where prohibited by state law, all offers of employment are conditioned upon successfully passing a drug test.
This employer uses E-Verify. Please visit the following website for additional information: www.kochcareers.com/doc/Everify.pdf
Follow us GP-LinkedIn GP-Twitter GP-Facebook GP-YouTube